Fiona McLoughlin Healy is a Leader with a track record of supporting and creating local business. She is an informed voice on childhood obesity and an advocate for Early Intervention.
A mother and passionate advocate for children, a promoter of equality, an informed voice on healthcare, a new type of local politician and the #GE16 Fine Gael candidate for South Kildare.
Fiona McLoughlin Healy initially trained as a nurse in University College Hospital Galway. From here, she left to volunteer in an orphanage in Romania, an experience she says fanned the flames of her interest in issues of equality and justice and its impact on children and their ability to succeed. She returned to NUIG to complete a degree in Law and Politics graduating top of her class with a double first class honours degree. She continued her studies achieving top marks again for her MSc in PR, communication and advertising, Ulster University.
Fiona McLoughin Healy through her property sales website Privateseller.ie was shortlisted for a Golden Spider. Fiona McLoughlin Healy herself has been a finalist in the Network Ireland Entrepreneur Of The Year awards and a shortlisted nominee for the IAA's Net Visionary awards. Her newest venture, GiftEncounters.com, is a celebrity booking service where people can book celebrities, sporting hero's or time with people who are simply the best at what they do.
Fiona McLoughlin Healy's experience in the voluntary sector re-enforced her beliefs around equality and how it is impacted by both health and education. Her enduring interest in people's welfare is a perfect fit with her recent specialist reporter role with TV3's Midweek show on which Fiona has explored the issues surrounding the introduction of free GP care.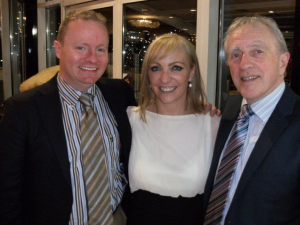 Her diverse experiences are evident in her contributions to TV3's daily Midday show – a female panel led by Elaine Crowley. She is married to Bernard Healy,a GP based in Newbridge. She has 3 children Ryan, Erin and Freya the inspiration behind the introduction of her Optimum Nutrition Scheme with Newbridge based Tots crèches. Free time centres around the childrens' activities at GAA, Newbridge town Rugby and Soccer.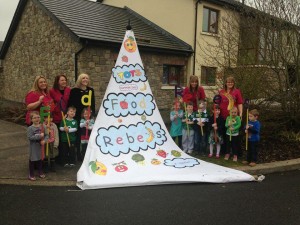 Fiona McLoughlin Healy has been an active committee member of Newbridge Chamber for over 10 years, but she has decided she can do more work fighting the fight for the local Kildare, Newbridge community by getting elected. To follow details of Fiona's campaign or give her your feedback, feel free to use the contact us page to get directly in touch with Fiona.
You can also follow Fiona on Facebook, Twitter, Instagram, LinkedIn, Youtube, Pinterest