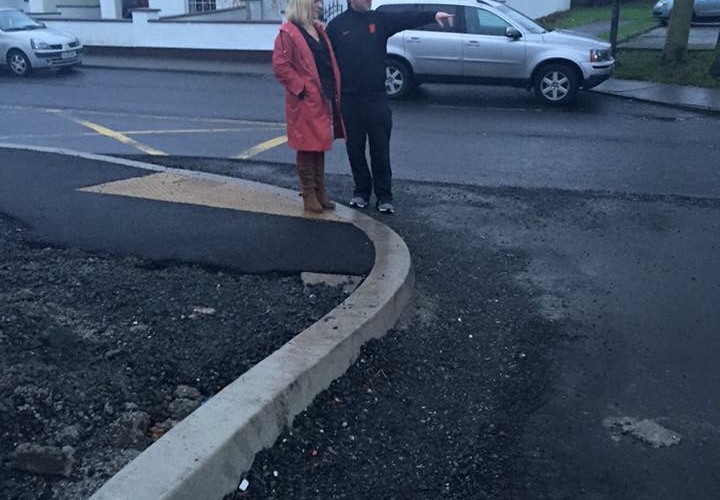 Following concerns from residents, I visited the works on Melitta Rd, Kildare Town and submitted the following motion.
Can the Council give outline the reasons for such an extreme narrowing of the entrance to Campion Crescent and Maryville estates on the Melitta Road and apply yellow boxes to the entrance of the Maryville and Kildare Town Educate Together as soon as possible to improve traffic flow.
Report: The grant of planning permission for the Educate Together School on Melitta Road imposed a special financial contribution on the applicant for improvements to footpaths/carriageway and the provision of a controlled pedestrian crossing. A design for the area was prepared based on the principles of the Department of Transport Tourism and Sport
"Design Manual for Urban Roads and Streets". The manual seeks to reduce driver speed whilst improving safety for vulnerable road users. To improve safety for pedestrians the entrances to Campion Crescent, Assumpta Villas and Maryville Estate have been altered. The new alignments have reduced radii at junctions whilst maintaining existing road widths. This has the effect of reducing crossing distances for pedestrians and forces drivers to navigate at a more appropriate speed. The Municipal District Office is aware of residents concerns and is confident that, in time, the residents will see the changes as beneficial in controlling speed of traffic entering the estates resulting in improved pedestrian safety. The line marking work is not complete and includes the issues indicated. The works have been delayed due to weather conditions and the contractor's workload. The Office is working with the contractor to have the issues addressed as soon as possible.