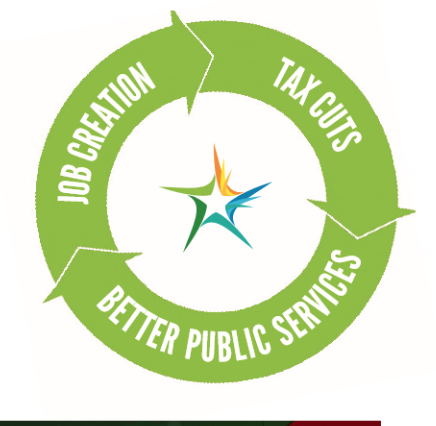 If we don't grow jobs, tax reductions and public service investment won't happen.
No more boom and bust, no more reckless waste of taxpayers' money, no more sense of a crisis.  Fine Gael's Long Term Economic Plan has three steps.
1. More and Better Jobs – 200,000 extra jobs by 2020 supported by a €4 billion jobs fund
2. Making Work Pay – abolishing the USC and reforming the welfare system to make work always pay more than welfare
3. Investing in Public Services – with more people at work and paying taxes we will be able to recruit 10,000 extra nurses, teachers and Gardaí.
Commenting on the Fine Gael Election Manifesto, Minister for Jobs, Richard Bruton TD said;  "The biggest dividing line opening up between the Fine Gael and the Fianna Fáil manifestos is on jobs. While Fine Gael is committing €4 billion to a Future Jobs Investment Fund and to continue to implement our Action Plan on Jobs, how much is Fianna Fail putting behind job creation? €0."
Minister for Finance, Michael Noonan TD said:  "As in recent years, we are living through uncertain economic times. We see what is happening in China, the international markets are in great flux, the Brexit debate, and political uncertainty in Portugal and Greece. In uncertain economic times the Irish people are going to have to decide on a very important issue: who do they trust to make the right calls for Ireland's future?"
"And make no mistake; if we have no new jobs, there is no recovery and no investment in new services. It's as simple as that. Everybody wants to reduce taxes and invest more in public services, but without a growing economy and more jobs their plans are little more than wish lists. That's the real choice facing the electorate on the 26th. Fine Gael has that Plan and can deliver those jobs." – Enda Kenny